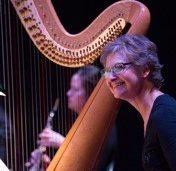 Igniting courage and connection
Hi, I'm Gianetta Baril. My entire life has been devoted to making music and sharing it around the world. In response to the pandemic, I turned a van into a self-contained rolling home/concert hall and with my harp, Amadei and cat, Misty, took the comfort of live harp music on the road — stopping wherever people were in need of hope and inspiration. The next journey in the brand new van "Mary" begins with a Live-streamed Cross Canada Tour Launch Concert on April 25th at 3 p.m. MDT. Come join us online for a fun programme and the big van reveal! The link will be live for a week.
After that, we'll be on the road. If you would enjoy some consolation from the ongoing challenges at work, in school, seniors residence or elsewhere, please contact me to see how we can organize a covid-safe event in your community. 
For me, this trip is about reaching out to forge relationships and creating space that can open up for deep connection, creativity and courage in others.
Follow the music across Canada
It all started as an idea sparked by the pandemic. Between the suffering and struggle, I saw an opportunity to bring people together and ignite special moments with music. So for the next couple of years, I am travelling across the country—and eventually across the continent—with my harp, Amadei. Follow our journey on the map to see where we've been and what's "planned" next – keeping in mind that all pandemic plans are written with a small p in pencil. My blog and detailed events calendar can be found at forloveofharp.com and there are more photos and stories on Facebook and Instagram. By the way, if you spot my van anywhere, please take a photo (when safe to do so!) and tag me. Let's connect to share some joy together on this wonderful journey called life.
Upcoming Events
Past Events
Watch past performances
The First Harp to Heart Journey
Fall 2020 - 6000 kms, 33 concerts and so many moments of shared Joy!
Stairway to Grace
September 2019
Girl at the Mill Bay Ferry
October 13, 2020
Harping with Fast Friends
August 2019
Say hello
Request a concert, send a message, or book an interview.
Help keep the journey going
Please join me in bringing the power of Live music to those in need of comfort and consolation during this challenging time. For the upcoming Harp to Heart journey across Canada, I am looking for support to help cover my costs. Donations of any amount are appreciated and can be made through the Donate button below. Sponsorships are also gratefully welcomed. Please contact me if you feel called to be part of this journey.
Donate Today